Provocation for Day 2: Curriculum and campus transformation for equity and justice
Posted in 2021 Provocation | Tagged Design, designing for equity
Dr. Kathy Powers' provocation focused on the importance of spaces and bringing humility into our teaching and our healing.
---
Provocation overview
On day 2 of the Summer Institute, the provocation and panel sessions centered on the foundational themes of "Honoring Trauma" and "Building Equitable Campus Cultures." Dr. Kathy Powers' provocation asked participants to think about the classroom itself and how it can be a unit for collaboration, but also to reflect on how students of different backgrounds and identities are affected in certain spaces. Dr. Powers elaborated on self-reflexivity in the classroom and described the challenge of dealing with legacies of harm in a multi-ethnic context.
One of the most moving moments from her Provocation was on humility, where Dr. Powers grappled with how one can contribute to problem-solving without approaching the situation with arrogance. A repeated focus on humility was a thread that ran through much of the Institute and was a theme brought up by Dr. Artze-Vega as well.
Takeaways
Some key takeaways from Dr. Kathy Power's Provocation include:
The classroom matters. The classroom can be a space for faculty to exert some control and agency, independent of most of the strictures of the university administration, yet it also must be a space for truth and reconciliation -a "unit of collaboration."
Space matters. Think beyond the four walls of a classroom and see the space where a university is located (like a city); consider how students feel and perceive certain spaces and how that can affect them.
Humility and Curiosity matter. This connects to Dr. Artze-Vega's 5 Hopes for equity work, as evergreen principles in being an "equity practitioner" (first generation or otherwise).
The local matters. Engage in whatever forms of "Institutional ethnographies" and inventory your community to make sense of the local and contextual issues surrounding equity and inclusion.
---
---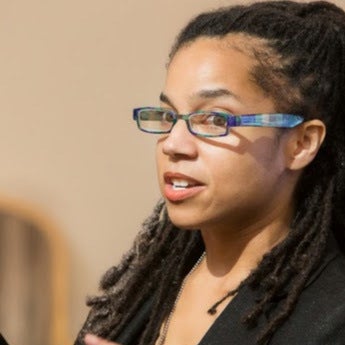 About Dr. Kathy Powers
Kathy Powers is an Associate Professor of Political Science at the University of New Mexico. She is interested in the nature of institutional authority as well as institutional change and effects. Much of her present research focuses on the design of international institutions and law with respect to human rights, restorative justice, trade, and war. Specifically, she examines the institutional and legal determinants of transitional justice in the form of global reparations efforts following mass human rights violations, the international legal personality of international organizations, and how regional economic institutions that transform into military organizations impact war.
Professor Powers has published her research in diverse venues such as the Journal of Conflict Resolution, the Journal of Peace Research, International Interactions, Foreign Policy Analysis, the Review of International Studies, and the NAACP Special Edition. The National Science Foundation has supported her research on numerous occasions. She was recently awarded multiple fellowships to conduct research for her book Making Amends: The Institutional and Legal Landscape of Global Reparations while in residency at the United States Holocaust Memorial Museum and at the Woodrow Wilson Center for International Scholars in Washington, D.C.
Professor Powers is also the 2013 recipient of the UNM New Faculty Teaching Award and the 2010 recipient of the Faculty of Color Teaching Award from The Project for New Mexico Graduates of Color (PNMGC). She holds appointments in the UNM School of Law, Program of Africana Studies, and Robert Wood Johnson Center for Health Policy, as well as in the Department of Government at Georgetown University.